PICKS OF THE WEEK – Jan. 6, 2021:
STAR WARS: THE HIGH REPUBLIC #1: Disney and Marvel's hotly anticipated 'High Republic' line of books and media starts with this blockbuster issue from the House of Ideas. Writer Cavan Scott starts off with a bang in the height of the old republic as light shines through the galaxy and the Jedi reign supreme, protecting and guiding the galaxy through a period of peace and prosperity. Padawan Keeve Trennis is training on a remote planet fulfilling her final test to see if she is worthy of the title master, until unforeseen circumstances take place and forces Keeve has to put all her training on display in front of her master. This issue sets the stage for the story arcs to come with main characters, space stations, and even a cameo from everyone's favorite Jedi, as we learn the origins of the Jedi order. Ario Anindito's art is swift and thorough, with cool designs and motifs to show the difference of the franchise's sleek and broken-down ambience of the original movies to a more refined and detailed galaxy that proceeded it. A special shout out to colorist Annalisa Leoni who makes this issue absolutely pop with color and wonder, especially in one particular scene involving the force. For fans of all things Star Wars and those who want even more Jedi in their pull pick this up as fast as you can.
Click on the Cover for all our ISSUES and VARIANTS!
FUTURE STATE: WONDER WOMAN #1: For all the new Future state titles rolled out by DC Comics, this one may surprise you, but, it is such a delight, such a joy, and for lack of a better word, such a wonder it makes the Pick of the week. Yara Flor the new Wonder Woman of the not too distant future and shows off her heroism as she debuts slaying a hydra heading into the underworld to save her sister. Joelle Jones does double duty on this title by being both writer and artist for the introduction of DC's new super heroine. Her pencils are as gorgeous as Yara, blending magic, might and morbidity to paint a beautiful picture. But what really sets Yara and this book apart from all the rest is oddly enough, humor. Yara Flor has a big brash personality and is the not the same stoic Wonder Woman Diana is. She is way more human and is a joy to watch figure out problems with not always the smartest or kindest means. This does not mean that she has bad intentions, but has an ability to grow, and to see her deal with her issues whether small or large in this way is refreshing and adds a good commentary both internally and externally for the character. This is the title from Future State that will take you by surprise and by storm, and will probably cause Yara to stick around longer than anyone could have anticipated.
Click on the Cover for all our ISSUES and VARIANTS!
ETERNALS #1: Marvel's newest take on the Eternals is in the right hands of writer Kieron Gillen and artist Esad Ribic as they take the children of the Celestials and reinterprets them for the modern Era. De facto leader of the group, Ikaris, wakes up from hibernation learning that all of the Eternals have died in a catastrophe against each other. When he comes to, he realizes he is the last to wake up as he heads out into the world looking for answers. What he soon finds out is that one of their own has been swiftly murdered and thus sets him the trail to solve the mystery before it's too late. That's basically the plot in the nutshell but, what Gillen has in store seems to be a universe spanning story bringing in everyone from the Marvel universe while building his own mythology at the same time. Gillen takes a hint from Jonathan Hickman with charts and hierarchies of how many Eternals there are and sheds light onto their purpose. He seems to be laying the groundwork for big things coming and with the gorgeous, dreamlike artwork of Ribic driving the story home and giving the book a grandiose sense of wonder and scale this book looks to be hitting a high point for Marvel this year and just in time for the when the hotly anticipated Eternals movie finally rolls out. If the you're a fan of the current X-line of books and love a good mystery than check this series out to get your fantastic fix of monsters, myth and above all else, Marvel. 
Click on the Cover for all our ISSUES and VARIANTS!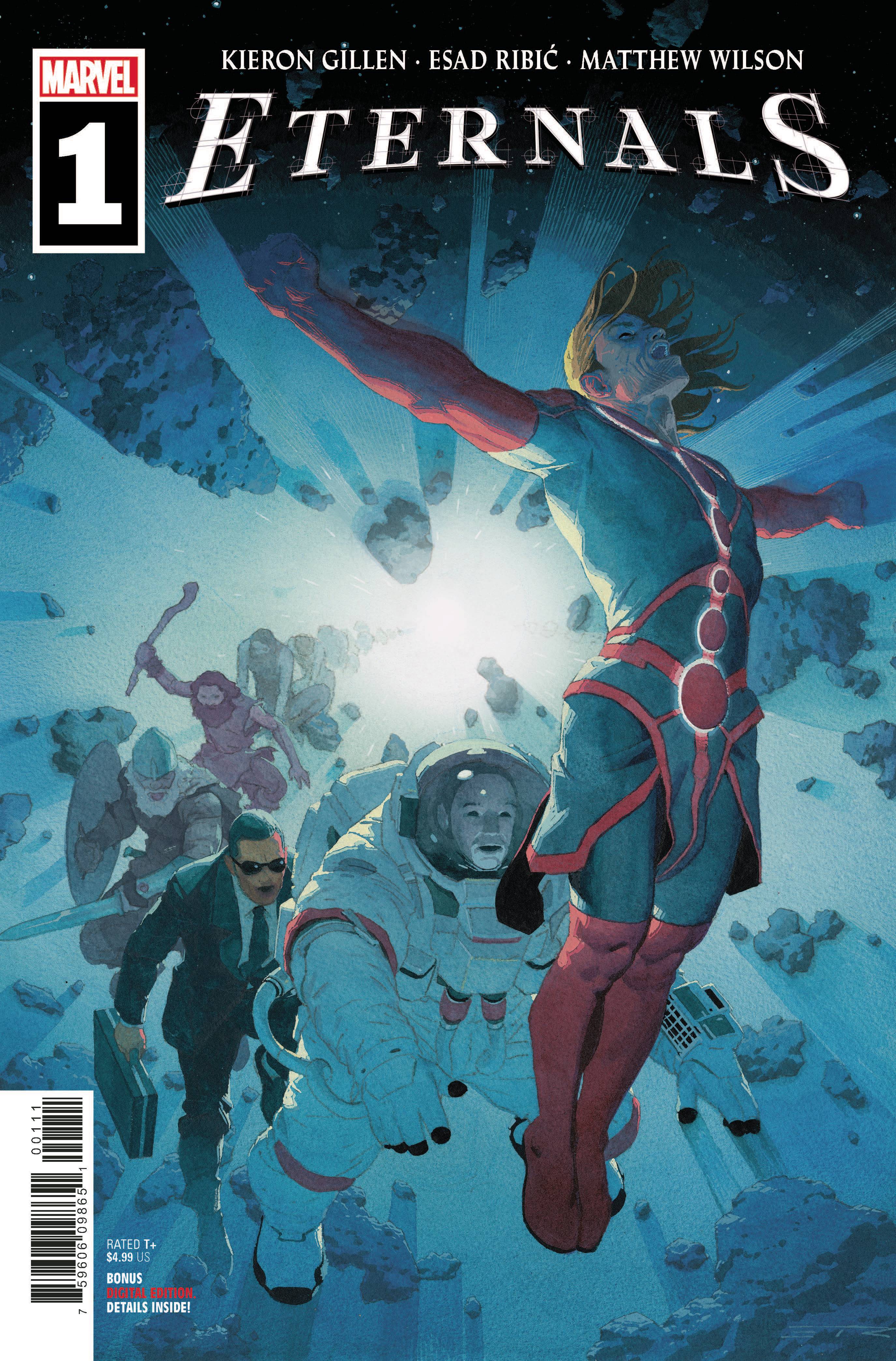 January 06, 2021 —

Golden Apple