From Ryan Liebowitz, Co-Owner and General Manager of Golden Apple
UPDATE MARCH 25, 2020:
All curbside "Comic Car Hop" service is suspended until the shop can reopen for business. We will hold all orders inside the store for any subscribers or "in-Store pick up" website orders.
If you prefer to pay a fee to have your items shipped anywhere in the world, let us know as that is the only delivery option we are offering during the COVID-19 lockdown in LA.
Sincerely,
The Liebowitz Family
March 16, 2020
Hi All - I hoped that the coronavirus would have been gone by now, but it is a global pandemic. COVID-19 awareness is now affecting our area in Los Angeles, California. The shelves at markets are bare, cleaning and household supplies have disappeared from nearly every shop as of Sunday night and our Mayor has asked many local businesses to close up and/or adjust their hours and number of patrons by 50% in some cases. Here's is some info if you live or are traveling to our area.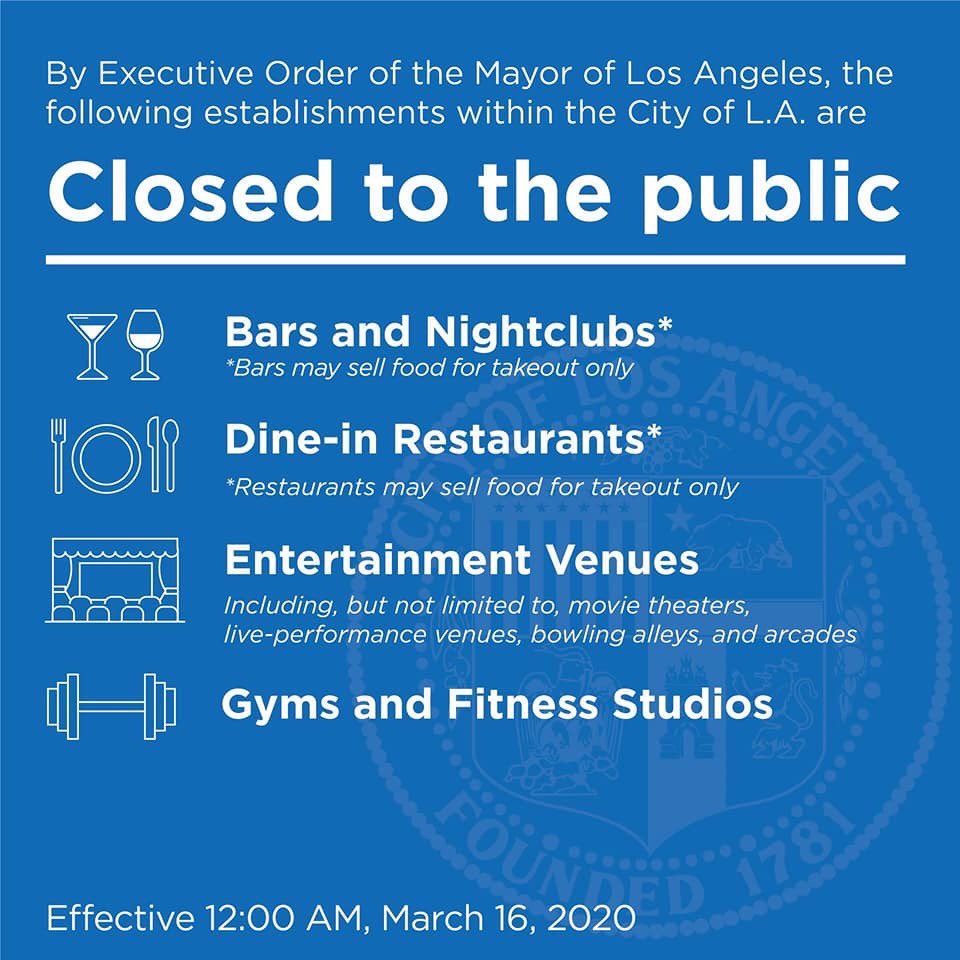 Over this past weekend we saw many familiar faces and some new one's including Robocop/Batman/Buckaroo Bonzai himself Peter Weller (check our socials for the epic picture)! Despite all of the uncertainty and chaos, we experienced that our customers seem to want and need us to stay open for as long as we can. They thanked us for being a place they can come to read fantastical stories be a fun and nostalgic distraction from reality. Most people need escapism from normalcy and it seems comic books help some get through this particularly difficult time.
So for now, we WILL STAY OPEN 7 DAYS A WEEK for as long we think it is safe to. However, starting today we will have shortened hours of operation to:
12PM TO 5PM DAILY
Our store and staff are staying sanitary and making sure to provide a clean shopping environment for all that step through our doors. In addition. we are well stocked with comics, books and collectibles (not toilet paper) and have fresh new products every Wednesday like clockwork until Diamond Distributors is affected and that changes. We will be closely monitoring that situation and will post all important info here in this blog and on our social media pages. For now, please feel free to come and shop during these select hours and stay informed and safe.
We are also started a "COMIC BOOK CAR HOP" SERVICE. Just call us (323) 658-6047 and place your order on the phone and we will take care of the rest! or send an email: orders@goldenapplecomics.com
Simply pull your vehicle into our BACK PARKING LOT (located 1/2 block south of Melrose BEHIND the building) or walk up in front or back and call us. We will bring your comics, graphic novels, pop toys, etc. out TO YOU and charge you in person  with our mobile square credit card machine.
In addition, we have postponed ALL IN-STORE EVENTS for the month of March and beyond including this week's AWA party with J. Michael Straczynski. We hope to reschedule with Joe and all of the talented folks trying to promote their new comic series soon. Please follow us on all social media (Facebook. Instagram, & Twitter) for up to the minute news and updates.
If you plan to stay home for the next few weeks and practice "social distancing", we completely understand and hope to see you when this is all over and it is safe to return to our normal lives. Anyone over the age of 65 should stay indoors at all times and self-quarantine themselves. Sharon Liebowitz, the "Golden Mom" is at home and will not be in the shop until this passes.
We understand that we may not see some of you for a while, so will hold all of your subscriptions and may even consider curbside service and/or home deliveries soon to help out.
In the meantime, we have an alternative method for you to get your comic fix, SHOP ONLINE HERE. Our web store is open 24 HOURS A DAY and our inventory is stored offsite at our warehouse facility. You can even get brand new issues as well as pre-order your favorite upcoming titles. In addition, you can either choose to have the items delivered to you at home for a small fee or pick up at Golden Apple for FREE during our reduced hours of operation.
I sincerely wish everyone, your friends and families to stay safe and well informed during this crisis. I know that allot of people have either lost their jobs, been put on hiatus or otherwise affected by this pandemic. I always quote Bill & Ted's Excellent Adventure at the end of each blog, and those words couldn't be any more important now.
Be excellent to each other,
Ryan aka Burleyman