PICKS OF THE WEEK - July 29, 2020
LOST SOLDIERS #1: This new six issue mini from Image is hard hitting and harrowing set-up as it juxtaposes two very dark scenarios from the past and present. The premise is a mixture of Spike Lee's new film "Da Five Bloods" and "Sicario", set in Vietnam and Present-day Mexico following former soldiers turned mercenaries on a last job dealing death and despair. This book is not for the faint of heart and holds nothing back in its delivery and depiction of war and strife, both in and outside of the mind and body. Ales Kot weaves words and soliloquies to hammer home just what is going on the heads and hearts of those going through the fire. And Luca Casalanguida's art, reminiscent of the late Darwyn Cook, paints a bleak but beautiful picture of the waging of war and the wisdom of age. This book is setting up to be something big and it would not surprising to see it become movie down the line. Get this one before everyone else knows its hot.
WONDER WOMAN #759: Wonder Woman's new creative team starts off with a bang as writer Mariko Tamaki and artist Mikel Janin grab hold of the golden lasso. Tamaki balances the home life of Diana Prince, moving into a new place while also moonlighting as Wonder woman, with confidence and comedy. She brings a human element to her, (for lack of a better word) wonder, of how modern-day people live in some fish out of water moments while showing her bravery and boldness in never stepping down in the face of danger. Janin's art though is the real price of admission. He was born to draw Wonder Woman and his skill lends a dynamic scope to her movement and heroics. And we she steps in to save the day the party really gets started with the wave of his pen. With new blood fueling this title this is the perfect jumping on point for anyone wanting to get into the banal and breathtaking adventures of Wonder Woman.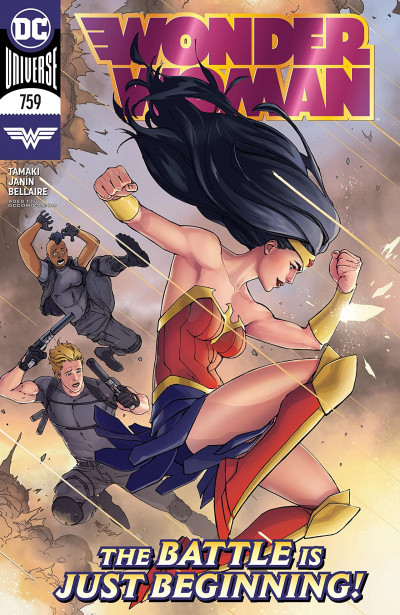 X-FACTOR #1: The latest X book to hit shelves wastes no time getting into the nitty gritty of the politics and procedures the mutants must face on their new island nation of Krakoa. Leah Williams sets up a great premise of a rag tag group of mutants brought together by Northstar to investigate the death of sister Aurora. The issue does a great job of setting up the premise of a super SVU squad set up to find missing mutants and to determine if they are dead so they can be resurrected. Williams balances a lot of personalities in this book and does well with meshing them together towards a common goal despite their radically different approaches. Of course, they can't always play nice but she does a great job of showing how important each member of the team is for their specific skills by creatively utilizing their powers in inventive and useful ways. David Baldeon's art is reminiscent of the 90s X-Factor book and fits well with the aesthetic. If you like the X-men and want something off the beaten path from the other extremes in the other line of books, make sure to pick up X-Factor.