The P.O.W - 08/26/20 - BATMAN: THREE JOKERS #1 / MEGA MAN: FULLY CHARGED #1 / FANTASTIC FOUR: ANTITHESIS #1
PICKS OF THE WEEK - Aug, 26, 2020
BATMAN: THREE JOKERS #1: The biggest Batman story in years is finally here and is worth the wait as the greatest mystery surrounding the Dark Knight's arch nemesis begins to unfold. Geoff Johns has been planting seeds for this story all the way back to the end of his New 52 Justice League run which led right into the REBIRTH relaunch. It seems over the years and tragedies that have fallen over the knights of Gotham there has not been just one Joker active on the streets, but actually three. Each of these Jokers have played an integral role in the darkest moments of Batman, Batgirl and Red Hood to now come out of the shadows with something in store for Gotham's finest. The extra pages and prestige format do this book justice all in thanks to the incredible and bombastic art of Jason Fabok. His art is combination of the best artists to take on the bat and exceeds all expectation has his action and perspective for this book help raise the stakes to Johns' nine panel grid style ala Watchmen. Three Jokers pushes the boundaries of how far our heroes are willing to go when some wounds are just too deep. For fans of all things Batman don't let this one out of your sight because Johns and Fabok are setting up the Joker for an epic punchline.
Click here for all the Variants and upcoming issues!
MEGA MAN: FULLY CHARGED #1: The blue bomber is back and he's recharged for a reboot to please fans, both old and new, in this six-issue mini from Boom! Studios. Fans of the video game and 2018 animated series are in for a sweet surprise with this title, as cartoon creators A.J. Marchisello and Marcus Rinehart take on the writing duties to bring the best aspects from all the various incarnations of Mega Man over the years and remix them together into something fresh. The story picks up during peacetime in the aftermath of a brutal war between man and machine. Just as the world seems to settle, some rogue robots start churning up chaos which brings Mega Man into the fray to save the day. Artist Stefano Simeone plays with movement and abstract proportions to give the world a more anime stylized look and colorist Igor Monti does a bang-up job painting the world with cool colors for calmer locales and hotter tones when the action heats up. Pick this up as fan of the game or for something nostalgically new, because Mega Man has a lot of enemies and you won't want to wait to see who shows up next.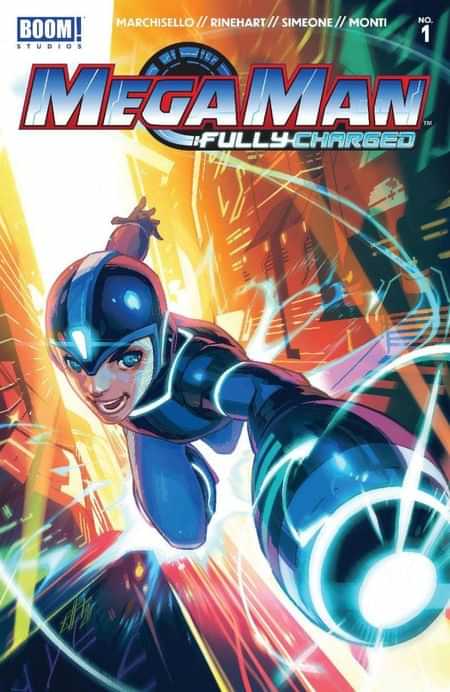 FANTASTIC FOUR: ANTITHESIS #1: Two of Comics' heavyweight champs team up for a throwback tale starring Marvel's first family. Super stars Mark Waid and Neal Adams are crafting a mini delving into a story outside of the continuity of the mainstream Marvel universe. Though the issue does have some modern flare and references, it seems that the book can kind of fit into anywhere within the FF's earlier stories, past probably issue 100. Waid knows how to keep the story moving and always throws something at you with the flip of a page while Adams keeps stride, penciling some cool action shots of the FF working together to save the world for cosmic catastrophe. What's interesting about this little series though is that the creators are taking a plot point that is currently sending shockwaves through the mainstream continuity and doing their own spin on it. It seems great minds think alike and it's nice to have this alternate take on something so titanic. If you're a fan of either creator or classic marvel in general then you don't want to miss this one because it may turn out to be something special.