The P.O.W - 1/13/21 - KING IN BLACK: THUNDERBOLTS #1 / FUTURE STATE: JUSTICE LEAGUE#1 / HAHA #1
PICKS OF THE WEEK – Jan. 13, 2021:
KING IN BLACK: THUNDERBOLTS #1: The Thunderbolts are back and just in time to save the world, or at least their benefactor, from certain doom. As Knull, God of the symbiotes, makes his assault on Earth, The Kingpin assembles a rag tag group of mischievous miscreants to recreate the Thunderbolts, to clear their names, become heroes, and do the bidding of the one and only, Wilson Fisk. Marvel's answer to the Suicide Squad keeps pace as this rag tag group of wannabe heroes makes their way through sludge filled New York trying to meet their mission. Writer Matthew Rosenberg brings some gallows humor to the fray as Taskmaster leads the group, with Star as their powerhouse, and breakout character of the series, Mr. Fear, bringing up the rear as the wild car; giving the Joker himself a run for his money as comics' murderous madman of the year. Artist Juan Ferreyra captures the macabre and sinister undertones of the book with red skies looming overhead and grim displays of Knull's terror creeping though panel after panel. This mini-series is not be missed if you've been following the King in Black event and is a great off shoot to the epic storytelling going on in the main title. Hopefully this title survives not only the event but beyond to give us some dark humor going forward as these former villains find their way on the road to redemption…if they can survive the night.
Click on the Cover for all our ISSUES and VARIANTS!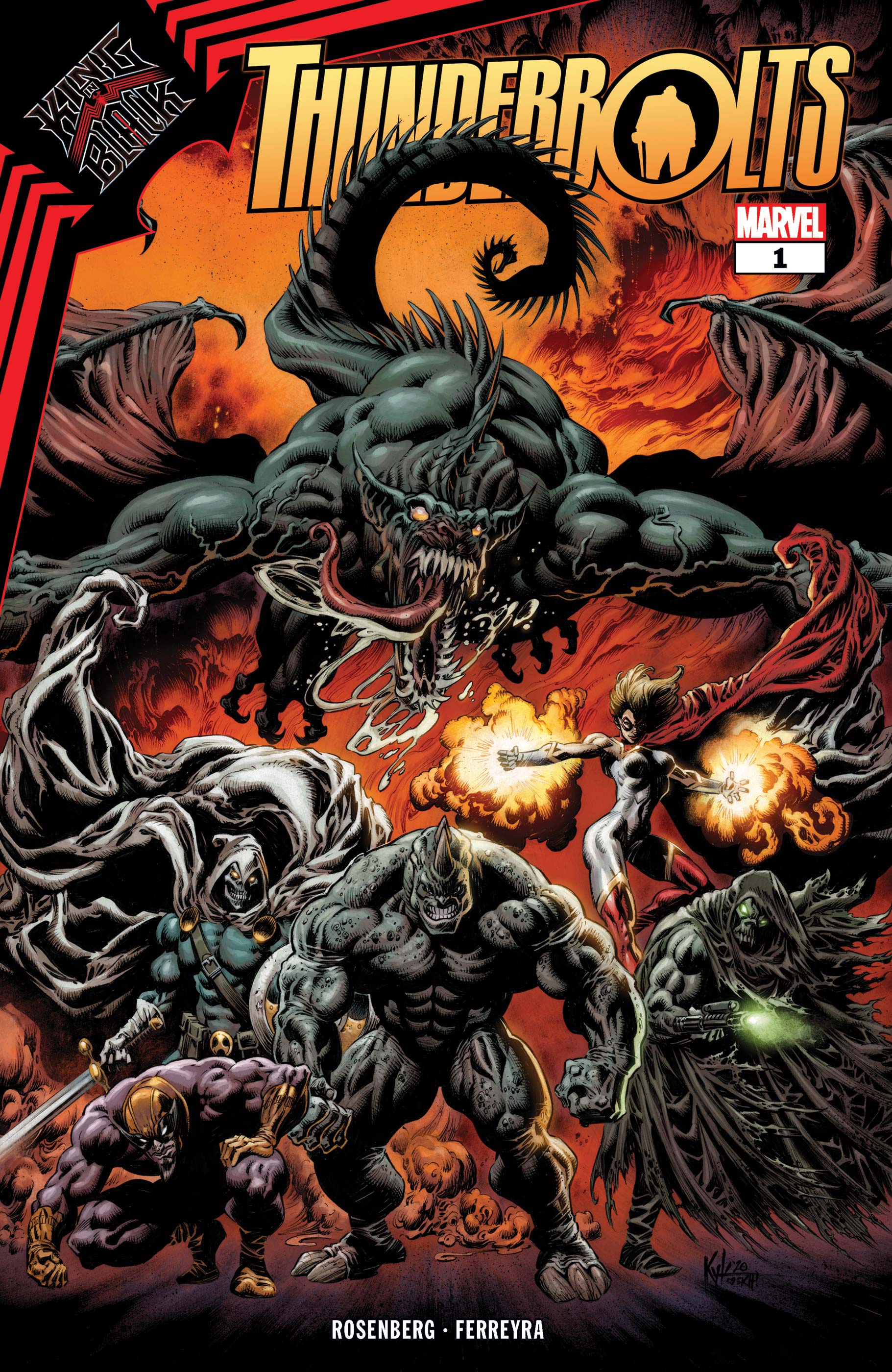 FUTURE STATE: JUSTICE LEAGUE #1: It's two for the price of one with this book as you get the new, improved Justice league for one half of the book and the remnants of the Justice League Dark in the back. It's well worth the six-dollar price tag for a double dose of super heroics and twists abound in this star-studded title from DC's new Future State line. Writer Joshua Williamson and Artist Robson Rocha tackle the first big team book featuring the new League and not only does it show them kicking ass but also them adjusting to the new rules of no fraternizing outside of missions with other members. Used for their own safety in case of a double cross, this added social hinderance adds a different dynamic to the team looking out for each other. But, never knowing who is under the mask, as well as their own desires to dig deeper with their fellow teammates adds complications and blurred lines. Rocha's art pumps new blood into the league and when the action begins to square off he really shines. The end of this side of the story delivers a fantastic cliffhanger that will have you itching for the next issue with a call back to JLA lore you won't see coming.
As for the backup story, things look even bleaker right off the bat for the JLD as Zatanna and Detective Chimp are on the run in the desert as Merlin and his hordes have infiltrated and taken over the lands for his own nefarious needs. They seek out some supernatural safety with Etrigan and some other Power players of the JLD to make one last stand against this master of magic. Writer Ram V knows how to pace a story and keep it moving as the team moves to stay one step ahead from certain death. Marcio Takara's Art mixed with Marcelo Maiolo's colors add that sense of dread and despair to what the world has become extremely well. Dark isn't in the title just for kicks, and they make sure of that as our heroes cast spell after spell to get out of Dodge fast. Familiar faces pop up with a great reveal at the end that helps make this whole issue something worth the double price tag and pays out in spades for satisfaction.
Click on the Cover for all our ISSUES and VARIANTS!
HAHA #1: Maxwell Prince has put another series on the map for image and it is everything and nothing of what you would expect from his twisted temperance, only this time with clowns. Set up as an anthology, much like Ice Cream Man, each issue is to be a stand-alone about the lives of clowns. This issue in particular takes place on the last day of clowning for the luckiest guy in the world, Bart, as the amusement park he works at shuts down and he is turned loose on the world with nothing in his pocket but dreams. But that won't dampen his spirits, no sirree, no matter what bad things decide to uproot his life all at once. But that is Prince's charm in all of this, to keep hammering the hits until you can't take it anymore. But, he tries something new with all of this…hope, albeit even just a glimmer of it. We'll see how long it goes for the rest of the series but there is a sort of strange silver lining running through the book. Vanesa Del Rey's pencils combined with Chris O'Halloran's pastel palette of colors bring the whole thing to life and shine. For fans of Prince's other works or, the Todd Phillip's Joker movie that came out last year, this is a perfect sort of companion piece if these types of media spoke to you and, if you just the type of person to laugh through all the tears, pick up HAHA before it's gone.
Click on the Cover for all our ISSUES and VARIANTS!