PICKS OF THE WEEK – Oct. 21, 2020:
SCUMBAG #1: Rick Remender is back with brand spanking new #1 from Image comics that sure to both delight and disgust with every flip of the page. Our "hero", Ernie Ray Clementine is the most despicable person on the face of the earth. He has no redeeming qualities within his being as he divulges into depravity and dankness any chance he can get. That all changes when he stumbles upon a fist fight for the fate of the world and wraps himself up in a conflict that rests entirely on his shoulders. Remender for this series is letting loose on all the debauchery and despicable deeds one man can do as he tries to place Ernie on some twisted road to redemption, if that even is the end goal. He brings a lot of humor to this book that has you shaking your head with a smile on your face over what depraved act Ernie will do next. This all rest on the shoulders of artist Lewis Larosa and colorist Moreno Dinisio who serve up some spectacular splashes that really pop off the page with gross glamour that you can almost smell. This book is for people with sick senses of humor and want something different in a James Bond type caper where the the hero and a lovable loser who you can't quite get behind but have no other choice but to trust. Remender is serving up a doozy with this one that you will have to take a shot just calm the nerves from this ride on the highway to hell.
CLICK on the Cover for BACK ISSUES And VARIANTS!
NIGHTWING #75: Dick Grayson is back with a vengeance in this over-sized issue form Dan Jurgens, Travis Moore and Ronan Cliquet. After far too long Dick Grayson has regained his faulty memory and is back in the swing of things as he picks up his former mantle and tries to right the wrongs that have unfolded since he's been gone. The issue catches you up with where Dick is at with his friends and family and how they are dealing with the new status quo. But with evil always lurking in the shadows and a villain with a vendetta against the former boy wonder, Dick already has his hands full as he puts the tights on once more. Jurgens is no stranger to Nightwing and is the perfect choice to set his sails on a proper course back to the high-flying hero we know and love. This combined with Moore and Cliquet's art really make the issue shine. They have an incredible grasp on adding personality to Dick's cast of characters and you should hope to see this duo on more titles as they have really proven themselves with their pencils and stylings. If the saga of Ric Grayson left a bad taste in your mouth then this is the palate cleanser you have been longing for, and believe me, it's worth the wait.
CLICK on the Cover for BACK ISSUES And VARIANTS!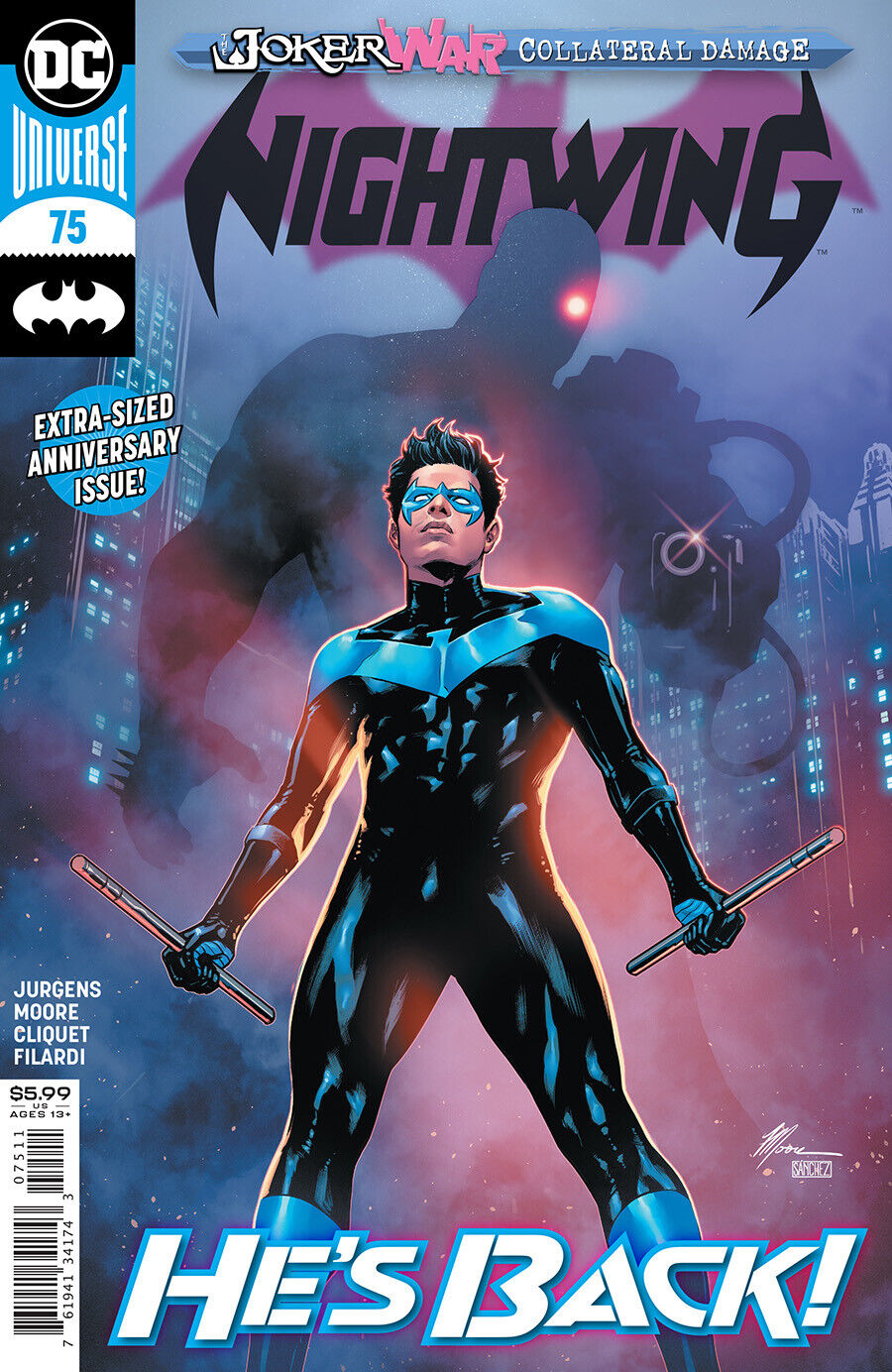 IRON MAN #2: Christophen Cantwell's take on the Golden Avenger continues its super streak of super heroics and self-reflection as Tony Stark begins to reckon with himself and what he has to become to be a hero. Cantwell's writing has a good flair for action and character as he moves Tony from some big bang battles to quieter moments taking the armor off figuratively with him struggling to be vulnerable. His choice of using Hellcat as a sounding board is pitch perfect for a hero to bring him back down to earth with her street level take on heroism. On the Art side of things Cafu really does a phenomenal job of piecing together, action, splashes and tension that keep you flipping the page to see where the mayhem will take you next. Cantwell is cracking the code to Tony Stark's internal hardware and bringing a lot heat into this character crucible, concocting the series into something that's stronger than steel.
CLICK on the Cover for BACK ISSUES And VARIANTS!