PICKS OF THE WEEK – Dec. 9, 2020:
BATMAN: BLACK AND WHITE #1: DC has brought together their top tier talent for the relaunch of Batman Black and White. From Tradd Moore to Paul Dini, this square bound book gives you the Batman buzz you've been craving to see with small vignettes about the Dark Knight. Of course, the book is done in the absence of color, hence the title, but the art transcends and breaks through without the need for hue and tone. A special shout out to J. H. Williams III who takes one of the most iconic motifs in the origin of Batman and turns it into the building blocks of what makes him the hero Gotham deserves. Another spotlight is on James Tynion IV who shows the courage of a henchman determined at all costs to land just one swing on the dark knight detective. If you're looking just to get a bat fix for the week then this is the book to pick up, with a little smorgasbord of everything, you're sure to find one story to really sink your teeth into and satisfy that hunger for all things Batman.
Click on the Cover for all our ISSUES and VARIANTS!
S.W.O.R.D. #1: Marvel's Merry Mutants take to the stars as Magneto Visits the giant javelin floating above earth waiting to take on any threats that come its way through the cosmos. Marvel's go to creators Al Ewing and Valerio Schiti have whipped up some stellar sci-fi with this new book spinning out the X-orbit of titles. The story introduces us the mutants that run the S.W.O.R.D. space station, their mission and then shows us how they do what they do best by taking the fast-ball-special team up techniques of mutants combining their powers and dialing their abilities up to eleven. Valerio Schiti has dream of creating some stellar new worlds and atmospheres and gets to open this world up to all sorts of wonder that would make any artist jealous. This book is a big, bold, bowl of sci-fi sweetness that by issues end all limits are lifted and there is no telling how far they'll go with this series as its mysteries unfold and its McGuffin will become truly a sight to behold.
Click on the Cover for all our ISSUES and VARIANTS!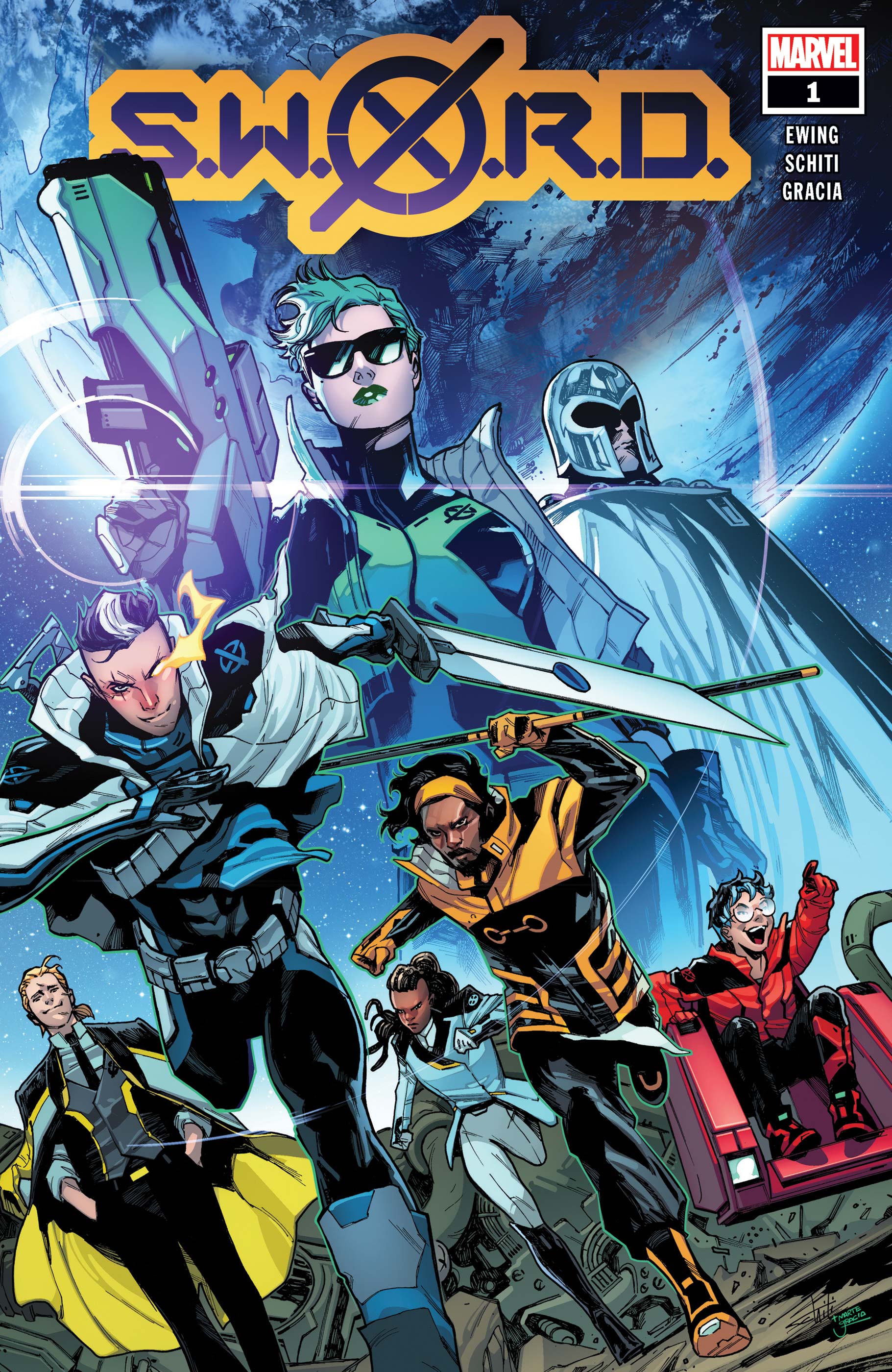 HOME SICK PILOTS #1: If a mash-up mix-tape of the haunting of hill house meets the pixies sounds like your kind of party then step right up and grab a cup this this series is taking possessed estates and making them kick ass like never before. Taking place in southern California, Amida and her band, the titular Home Sick Pilots, run around crapping on local punk shows while they try to find their sound and selves as they run into trouble with their rival band, the Nuclear Bastards which leads right to the doorstep of the haunted house at the top of the hill. Writer Dan Watters handles ghosts in a cool way, in the same way IT twists reality to grab hold of your fears you rather than an entity spooking up scares. Artist Caspar Wijngaard uses some simple manga inspired styles to bring the book to life but really shines with his use of color, utilizing pinks and blues abound to show contrast and highlight as things go from weird to weirder. If the haunting of hill house meets Paramore sounds like your kind of party then try this title on for size.
Click on the Cover for all our ISSUES and VARIANTS!